Options When Alcatraz Is Sold Out
Including Alcatraz Combination Tour Packages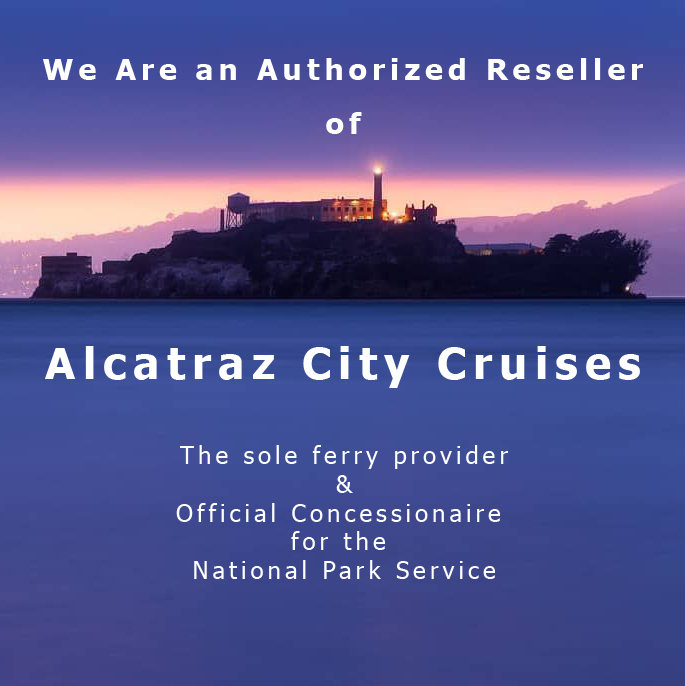 Amigos Tours is an Official Partner
of Alcatraz City Cruises

(Formerly known as Alcatraz Cruises)
Note that Alcatraz City Cruises website states that they are "The official website and only source for tour tickets to Alcatraz Island." This means they are the ONLY PROVIDER of ferry service to the island. You need an Alcatraz City Cruises ticket. We are an authorized reseller of those tickets.
If Alcatraz City Cruises is sold out, we may still have tickets for the date you seek. During busy periods, we also often sell out of our limited stock.
When Amigos Tours resells Alcatraz City Cruises' tickets, by regulation Alcatraz tickets are always resold as part of a tour package, and therefore the combination price is higher.

You can see that the tour package concept is verified on the Alcatraz City Cruises website.
We do not sell Alcatraz by itself.
The tickets we sell take you onto Alcatraz Island and inside the prison, with the Cell-House Audio Tour always included.

Note that we never sell the Alcatraz Behind The Scenes Tour.
On days we have tickets, typically we have one departure choice per day on the day tour, and one departure at night (if we have any).
All persons over age 18 must provide a government issued photo ID that matches the names you provide at checkout.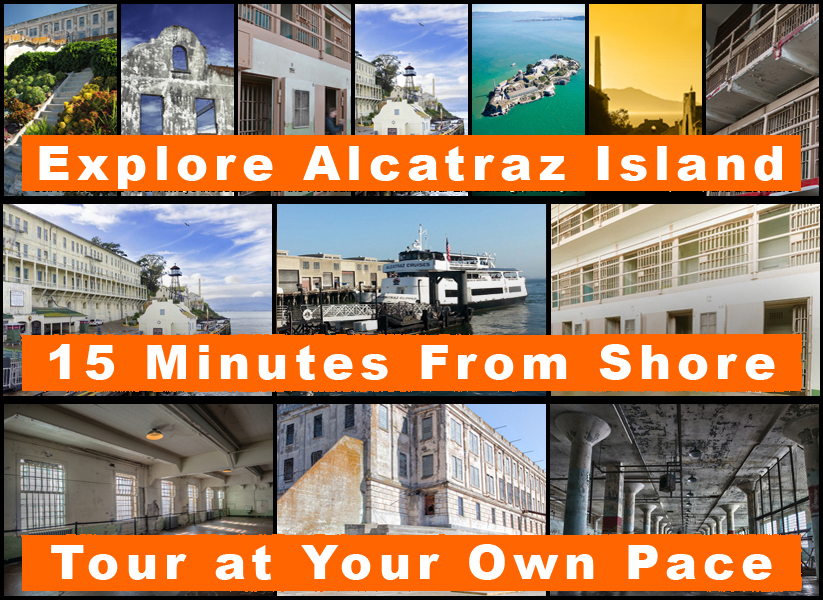 TO MAKE A PURCHASE:
First choose a combination package.
Then pick an Alcatraz departure date (and time) from the drop-down tab.
Enter ticket quantities.
For Muir Woods or Wine Country, enter separate dates for those tours (before or after Alcatraz).
Big Bus Hop-On-Hop-Off can be done ANY DAY - BEFORE OR AFTER your Alcatraz trip. (Possibly including the same day as Alcatraz – but your bus tour will be severely limited by time.) This tour does not require a separate date selection at time of purchase.
Bay Cruises can be done ANY DAY - BEFORE OR AFTER your Alcatraz trip. (This also does not require a separate date selection, and it can possibly be done the same day as Alcatraz.)
If Alcatraz tickets are available for the departure you want, after entering the quantity and dates a "Book Now" message will appear.
If tickets are unavailable for a selected departure, an error message will appear. Try another departure or check our referral page.
If tickets are available, follow the prompts to the shopping cart and then to the order page, where you will fill out the names of your guests.
Once you make a purchase, you will see a 5-digit order number that confirms your receipt.
Amigos Tours does not collect credit card information. All credit card info and processing is securely run independently by Stripe.

UPON PURCHASE, YOUR ALCATRAZ TICKETS ARE IMMEDIATELY HELD FOR ONLY YOU
Your tickets get subtracted right away from our limited, prepaid inventory. Some large companies will make you wait 24-48 hours only to tell you that they don't have tickets. Our system is simpler. If we have Alcatraz tickets in stock, click "Book Now" and proceed to checkout. If not, you will see a message stating "sold out" or how many we have left.
After your order is placed, your ticket quantity and the names in your group will be sent to Alcatraz Cruises.

Your tickets will be waiting in your name at the Groups window on the day of departure.
Again, your tickets will have been set aside from our prepaid allotment, and go only to you.
We are limited as to how many Alcatraz tickets we can obtain in any month, so we may sell out of our small stock, especially during peak seasons and holidays. Night Tours are even more limited.
Alcatraz departures are set by date and time. The departure times we offer can't be changed.
If you purchased a tour package with a Hop-On-Hop-Off tour or a Bay Cruise, those tours are secured as well, since no reservations are needed.
If you purchased a Tower Tours component (with or without Alcatraz) for Muir Woods or Wine Country you will get a final re-confirmation email direct from Tower within 24-48 hours — after we double-check reservations with Tower. This is often within 2-4 hours. Once re-confirmed, your purchase is final. If you need the Tower component date to be changed, it can only be done upon approval by Tower Tours. You will need to contact us and we will do our best to serve you, but no change is guaranteed. Early notice is helpful.
Upon purchase for all products, you can save your voucher. The system will also immediately email you a duplicate copy of the voucher.

The voucher will include all instructions for taking tours.
If you did not receive an email Voucher-Receipt within 2 hours after seeing your 5-digit order number, please request a duplicate at sfamigostours@gmail.com.

PLEASE CHECK YOUR SPAM/JUNK FOLDER FIRST.
ALL OTHER TOURS CAN BE DONE 
EITHER BEFORE OR AFTER ALCATRAZ
You pick the days for each tour. For Muir Woods and Wine Country, tour dates must be selected at time of purchase.

If timing permits, Bay Cruises and Big Bus Hop-On-Hop-Off can be done the same day as Alcatraz.

However, if you start the Hop-On-Hop-Off tour late in the day, your available hop-off time will be very limited. No refunds or exchanges.
For Alcatraz: Bring your email voucher to Pier 33, Alcatraz Landing.

Show it on your mobile device.
All persons over age 18 must show government issued photo identification.
For Tower Tours (Muir Woods & Wine Country), a courtesy shuttle pickup zone is available near Union Square. When boarding, if asked, show your email voucher on your phone.
In 2023, Tower Tours was purchased by Big Bus Tours, so the meeting spot for their tours is now 99 Jefferson Street, San Francisco. Guests staying at the Fisherman's Wharf area should anticipate walking to the Big Bus office, unless special assistance is needed.
Guests staying at hotels or vacation rentals beyond walking distance to Union Square or Fisherman's Wharf should plan for an Uber, Lyft, or Taxi.
Again, the 1-Day or 2-Day Hop-On-Hop-Off bus tours and the 1-Hour Bay Cruise do not require reservations at the time of purchase, but there are no hotel pickups for these tours.

The Bay Cruise Schedule varies by season.
More information on these tours can be found on our product description pages.
There are no hotel pickups for Alcatraz. You must make your own way to Pier 33.
IF SOLD OUT, ALCATRAZ CRUISES DOES NOT SELL SAME DAY TICKETS
Some people may have heard about people waiting on the dock at Alcatraz Landing at 4:30 am, trying to get last minute tickets. A few years ago Alcatraz City Cruises discontinued the "Same Day Ticket" option that resulted in this chilly scene. In years past, they held onto a small quantity of tickets, which they then sold when they opened in the morning, on a first-come, first-served basis. Alcatraz City Cruises does not do this anymore.
ALCATRAZ IS WHEELCHAIR ACCESSIBLE
Alcatraz Cruises boats have ramps, the Sustainable Easy Access Transportation (S.E.A.T.) tram has fold-down ramps for all types of wheelchairs, and inside the prison there is an elevator.
Because many roads/paths on Alcatraz are steep, the S.E.A.T. service is invaluable for visitors with mobility issues. This shuttle runs approximately twice each hour – from the dock up the hill to the Cellhouse and then back to the boat dock. Boarding is first come, first served. Visitors with mobility issues may have another person in their party ride along, space permitting. Parties can meet up at the Cellhouse or the dock. 
Note that this service is not for children/strollers.
FOR ALL TOURS, EXPECT COOL WEATHER ANY TIME
Wind-proof jackets are highly recommended for Alcatraz, Bay Cruises, and the open-air hop-on/hop-off Big Bus.
Consider bringing a warm and snug hat if possible!
You also may want to consider bringing a backpack for adding or removing clothing layers. San Francisco is famous for changing micro-climates.
Temperatures can change due to fog, wind, open air vehicles, or other variables.
There is no parking at Pier 33 Alcatraz landing, but there are several parking lots within 5-6 blocks.

Plan to arrive at Pier 33 least 30 minutes before departure, but not more than 2 hours early.
You will not be able to get your tickets more than 2 hours before departure.
An internet search for "parking near Pier 33" may be helpful
HOW LONG DOES IT TAKE TO SEE ALCATRAZ?
The Alcatraz Day Tour usually takes about 3 hours round trip. You can make it shorter or longer, with boats returning every 30 minutes.
The Cellhouse Audio Tour takes roughly 45 minutes. There is no ticketing for return ferries, but it is first come, first served, and the line can be long enough to make you wait another 30 minutes.
Night tours take 3 hours.
No Refunds or Exchanges on Alcatraz Packages. No Refunds for Missed Tours. No Refunds for Tours Not Used. See Terms and Conditions. You must agree to the Terms and Conditions in order to make a purchase.
For a shorter explanation of Alcatraz Tour packages that may be helpful for forwarding to members of your party, click here.
How can I get back to the original landing page with the Alcatraz sunrise picture?